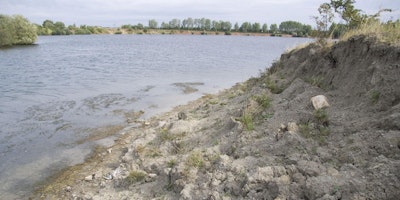 FOSSIL HUNT - Hampton Vale, Cambridgeshire
Sunday, August 13, 2017 from 11:00 AM to 4:00 PM (BST)
More Information →
Most of the old clay pits have been swallowed up by the building of huge housing estates to the south of Peterborough. However, one area at Yaxley has been left as a nature area, with public byways taking you around the rim of the pits, which are now filled with water. On the banks, the Oxford Clay is rich in fossils.
* Suitable for children 4+ (All children must be acompanied by a paying adult).
* LEADERS:  Aidan Philpot and Sam Caethoven
* HIGH VISIBILITY VESTS or jacket essential.
---
Please download and read the RISK ASSESSMENT Document
Please download and read the PPE POLICY Document
We try to keep most events to a 11am till 4pm schedule, but final times may vary depending on tide times and working around quarries. We will always advice start time and where to meet well in advance of the event. 
Please note, many of our locations will not have toilet facilities, water, or other amenities. 
Fossil guide to this location: https://ukfossils.co.uk/2008/02/22/yaxley/

The southeast embankment at Yaxley is constantly being eroded and the Oxford Clay here is extremely rich in fossils. The most common find is the oyster Gryphaea dilobotes. Belemnites are also plentiful, including the most common large Hibolithes hastatus. You are also likely to find worm tubes, crinoids and ammonites, especially the common kosmosceras.
Reptile remains are surprisingly quite common here, with ichthyosaur and pliosaurs being the most commonly found. Crocodile remains (Steneosauraus) and sharks' teeth also turn up from time to time.
The best area to search is at the base of the embankment, where the water has 'sieved' the clay and has left a find layer of shingle. Fossils are also found at the bottom of the slopes of the banks. In addition, you can take samples back home for wet sieving to search for small teeth.
This location is best visited when the water-levels are low. During the summer, a dry season will be far more productive than a wet season. And, during times of drought, this location can be extremely productive when the water levels drop even lower. After heavy rain, this site is also productive, because the rain washes the fossils down from the embankment.
---
FAQ 
Can my child less than 4 attend the event?
We strongly advice against taking children under 4, but if the event allows children and leaders agree, then this is possible providing they are under your responsibility and care, and do not use tools or equipment. Please contact us on 01502 725205 (Mon-Fri 8am-3pm) for more information.
Can I book over the phone?
Yes, you can, and we can take card payment, however a waiver must be signed before we can accept your booking. The waiver can be emailed or posted out, but must be returned within one week of the booking. Contact us on: 01502 725205 (Mon-Fri 8am-3pm).
Can I pay on the day?
Sorry, we do not allow anyone to pay on the day, as we cannot provide pre-preparation details on risk assessment, and due to health and safety, places are limited.
Do I have to bring my printed ticket to the event?
This will greatly help us and speed things up, but leaders will have a list of those attending on the day.
Is my registration ticket transferrable?
Please contact us and we normally try to accommodate this.
I have a question not listed?
Please contact us on 01502 725205 (Mon-Fri 8am-3pm).
What happens if I can't make it on time or get to the venue?
You need to contact us urgently. If this is within a few days of the event, call us on 01502 725205 (Mon-Fri 8am till 4pm), if it is on the day or a couple of days before, contact the leader in the final confirmation email detailing where to meet and times. We cannot guarenete we can wait for you, but where possible, we will try.
Are toilets nearby?
Most events will not have access to toliets. The best places to find fossils are mostly areas away from built up areas, and tend to be quite remote. There are a few exceptions where toliets are close by, but it is best to presume they wont be available.
Will my friend's hammer and chisels from their tool box be okay to bring?

No, standard tools are made from inferior metal which splinter very easily against rocks. This is both dangerous to yourself and others, and flying metal can cause eye injuries or penetrate the skin. ONLY hammers specifically made for geological use can be used. We offer some to add to your order if you dont have any.
What happens if the event is cancelled?
We try very hard to avoid having to cancel, but if an event needs to be cancelled due to adverse weather conditons or unforeseen circansances, we will notify you immediately, and you will be offered an alternative hunt or date or a refund.