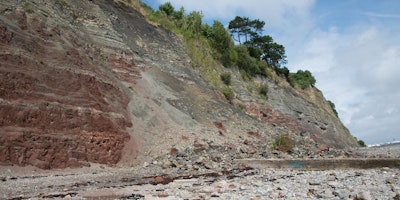 FOSSIL HUNT - Penarth, Wales
Sunday, April 23, 2017 from 9:30 AM to 2:00 PM (LMT)
More Information →
P

enarth is the most popular location in Wales for fossil collectors. This is down to both the site being very rich in fossils, together being a major built up area. This site can be over collected but you still should come home with some finds.
* Suitable for all the Family
* LEADERS: Andrew Bayliss, Aidan Philpott and Lee-anne Colins

---
Please download and read the RISK ASSESSMENT Document
Please download and read the PPE POLICY Document
We try to keep most events to a 11am till 4pm schedule, but final times may vary depending on tide times and working around quarries. We will always advice start time and where to meet well in advance of the event. 
Please note, many of our locations will not have toilet facilities, water, or other amenities. 
Fossil guide to this location: https://ukfossils.co.uk/2009/08/05/penarth/

Penarth is one of the most popular locations in Wales for collecting, this is because the beds here are rich in fossils, and the constant erosion of the cliffs, scatteres fossils along the foreshore.
Being a major tourist location, it is also not surprising why so many people collect here, and perhaps the site is a little over collected. However, what is nice about Penarth, is that you can stroll the foreshore and collect fossil shells such as bivalves, gastropods and brachiopods, and also collect ammonites. With easy parking and easy access, this site is ideal for all the family. You don't need any tools, all you need is a good eye. Search the pebbles and boulders along the foreshore.
---
FAQ 
Can my child less than 4 attend the event?
We strongly advice against taking children under 4, but if the event allows children and leaders agree, then this is possible providing they are under your responsibility and care, and do not use tools or equipment. Please contact us on 01502 725205 (Mon-Fri 8am-3pm) for more information.
Can I book over the phone?
Yes, you can, and we can take card payment, however a waiver must be signed before we can accept your booking. The waiver can be emailed or posted out, but must be returned within one week of the booking. Contact us on: 01502 725205 (Mon-Fri 8am-3pm).
Can I pay on the day?
Sorry, we do not allow anyone to pay on the day, as we cannot provide pre-preparation details on risk assessment, and due to health and safety, places are limited.
Do I have to bring my printed ticket to the event?
This will greatly help us and speed things up, but leaders will have a list of those attending on the day.
Is my registration ticket transferrable?
Please contact us and we normally try to accommodate this.
I have a question not listed?
Please contact us on 01502 725205 (Mon-Fri 8am-3pm).
What happens if I can't make it on time or get to the venue?
You need to contact us urgently. If this is within a few days of the event, call us on 01502 725205 (Mon-Fri 8am till 4pm), if it is on the day or a couple of days before, contact the leader in the final confirmation email detailing where to meet and times. We cannot guarenete we can wait for you, but where possible, we will try.
Are toilets nearby?
Most events will not have access to toliets. The best places to find fossils are mostly areas away from built up areas, and tend to be quite remote. There are a few exceptions where toliets are close by, but it is best to presume they wont be available.
Will my husband's hammer and chisels from his tool box be okay to bring?
No, standard tools are made from inferior metal which spliter very easily against rocks. This is both dangerious to yourself and others, and flying metal can cause eye injuries or penetrate the skin. ONLY hammers specifically made for geological use can be used. We offer some to add to your order if you dont have any.
What happens if the event is cancelled?
We try very hard to avoid having to cancel, but if an event needs to be cancelled due to adverse weather conditons or unforeseen circansances, we will notify you immediately, and you will be offered an alternative hunt or date or a refund.